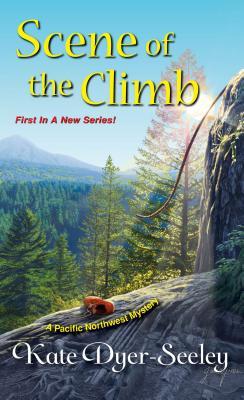 Pages: 304
Format: Paperback
Meg Reed bluffs her way into writing for 'Northwest Extreme', passing herself off to editor-in-chief Greg Dixon as an outdoor adventure enthusiast. Never mind that Meg's idea of sport is climbing onto the couch without spilling her latte. So when she finds herself clawing to the top of Angel's Rest - a 2000-foot peak - to cover the latest challenge in a reality TV adventure show, she can't imagine feeling more terrified. Until she witnesses a body plummet off the side of the cliff. Now Meg has a murder to investigate ... and if the climbing doesn't kill her, a murderer just might.
This review was first posted on
Candace's Book Blog
.
Scene of the Climb is an adult murder mystery but fit's the 'New Adult' category fine since the main character, Meg, is fresh out of college. She has a young voice and still lives the life of a young person. This book is also appropriate for mature YA readers as there's no adult content.
Meg was a character that was immediately easy to like. At times she felt slightly naive, but I liked her go-get-it attitude where she pushed to get answers and didn't just sit back. When she knew that someone was murdered she was determined to find out who did it, and she didn't let anything stand in her way. Maybe not the smartest idea, at least much of the time, but I understood her desperate need for answers.
Meg has a nice group of friends and I liked what we got to know about them. I especially liked her friend Matt and hope that he's even more present in future books. I loved her Grandmother who is intuitive (or psychic), and I'm anxious to see more of her.
This is near where Meg's grandmother lives and along a path that Meg walks.
My favorite aspect of the book was actually the location. The book takes place locally and spotlights a variety of places I've been. I could follow Meg where she went because I was so familiar with the different locations. When she had an experience driving a particular rode I was right there with her as I've driven that road on a dark rainy night and it's very skinny lanes and rather terrifying. The familiarity to everything enhanced the book for me and had me wanting to get out and visit some of the places I haven't been to real recently.
View from Vista House, this is near where the murder took place in the book.
Multnomah Falls, one of the places featured in the book.
The mystery worked out well. I didn't guess who the murderer was until shortly before Meg did (same scene) so that was definitely good. I enjoyed the clues that were dropped and was able to try to do my own detective work. Of course nothing added up because it's just too much information, so you try to sift through what is important, etc. I had been craving a mystery and I got a good one! This maybe doesn't quite fit under 'cozy' mystery because it's not a small town but the author makes it feel so with repeat characters and places they visit. I definitely recommend it to fans of mysteries, it's one you don't want to miss!
About the Reviewer:
Candace is a wife and mother to two. She's blogged at
Candace's Book Blog
since November 2008. She enjoys a variety of genres including anything and everything young adult, some adult urban fantasy, a little bit of adult paranormal romance, some historical fiction and reads lots of childrens books. You can find her on her blog at
http://www.candacesbookblog.com
,
twitter @candacemom2two
and on
goodreads
.